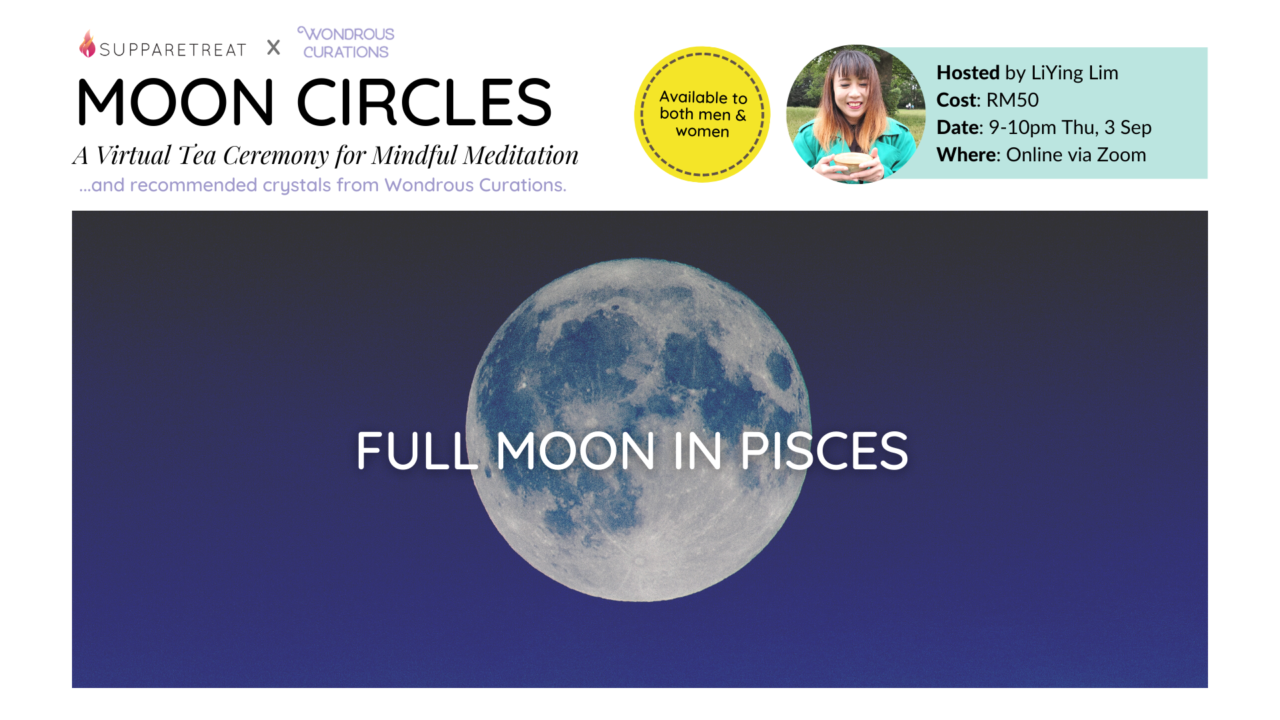 Moon Circles: Full Moon in Pisces
3 September, 2020 @ 9:00 pm
-
10:00 pm
UTC+8
Manifest your desires with the upcoming Full Moon in Pisces through a Virtual Tea Ceremony hosted by When Still Waters Speak.
Intuitive, imaginative and creative, Pisceans are watery sylphs who love fluidity, who love to love. In this Full Moon in Pisces, we are opening up our heart, mind and soul to the I AM powers within us – the true Creator that flows deep within our veins, whom we have almost forgotten because of the busy nature of life. Now it is the time to call in our manifestations through stillness and ground ourselves. When the moon is in Pisces She can truly channel her healing energies forth through Her light. Remember – your love for yourself is not a luxury, but a necessity, to continue to serve your dharma and live out your life's purpose.
---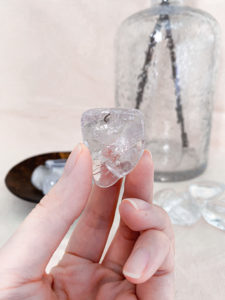 About our selected Crystal from Wondrous Curations
✧ CLEAR QUARTZ ✧⠀
⠀
Acceptance, Emotional Balance, Emotional Healing, Emotional Stabilizing, Friendship, Harmony, Joy, Perseverance, Reducing Stress or Tension.⠀
⠀
Clear Quartz is known as the stone of power and amplifies any energy or intention. It protects against negativity, attunes to your higher self, and relieves pain.⠀
⠀
Clear Quartz has been shown to enhance and strengthen the aura which is often used to cleanse, open, activate, and align all of the chakras. Since Clear Quartz absorbs energies very easily, it is important to clear these stones on a regular basis. Personal favourite is to place them on a window sill early in the morning till early noon or from evening onwards.⠀
About Tea Ceremony
Some of the many earth-bound benefits of Tea Ceremony:
You are ready to stop the narrative that doesn't allow you to be the star of your show

You would like to deepen your intuition

You desire to awaken to abundance and fullness of life

You want to be able to mindfully observe your thoughts and cure obsessive thinking for good

You want to taste clean, "living" Tea leaves that are honoured for their diversity in the environment in which they flourish, biochemical and fertiliser-free, and cultivated in a clean environment with love from the respective farmers. These leaves bridge Heaven and Earth to sharpen our minds while at the same time, awakening our hearts.
Tea is used in Cha Dao for Her innate quietude, her capability to calm and sharpen the mind at the same time, and her gentle ways of opening the heart through communion and reconnection with Nature. There is a saying in Cha Dao that as we pour Tea, we become the Tea. The Dao is the "flow" of the Universe, and to become at one with the Dao is at the very core of manifestation – for when we get out of our own way, so too will the Universe get to work without resistance that is so often imposed by our very own fear and inhibitions.
About LiYing
LiYing first found her spiritual awakening in sound healing bowls, which has subsequently led her to a kundalini awakening and embracing a lifestyle steeped in daily meditation and yoga. When she found tea in 2019 through the lineage of Global Tea Hut in Hong Kong through Fivelements, she found that sitting in reverent silence with tea can take her meditation and manifestations to greater levels. It was inevitable – she answered the call of the Tea Spirit by devoting herself to the teachings of The Way of Tea, Cha Dao.