Moon Circles: New Moon in Virgo
16 September, 2020 @ 9:00 pm

-

10:00 pm

UTC+8

RM50 – RM93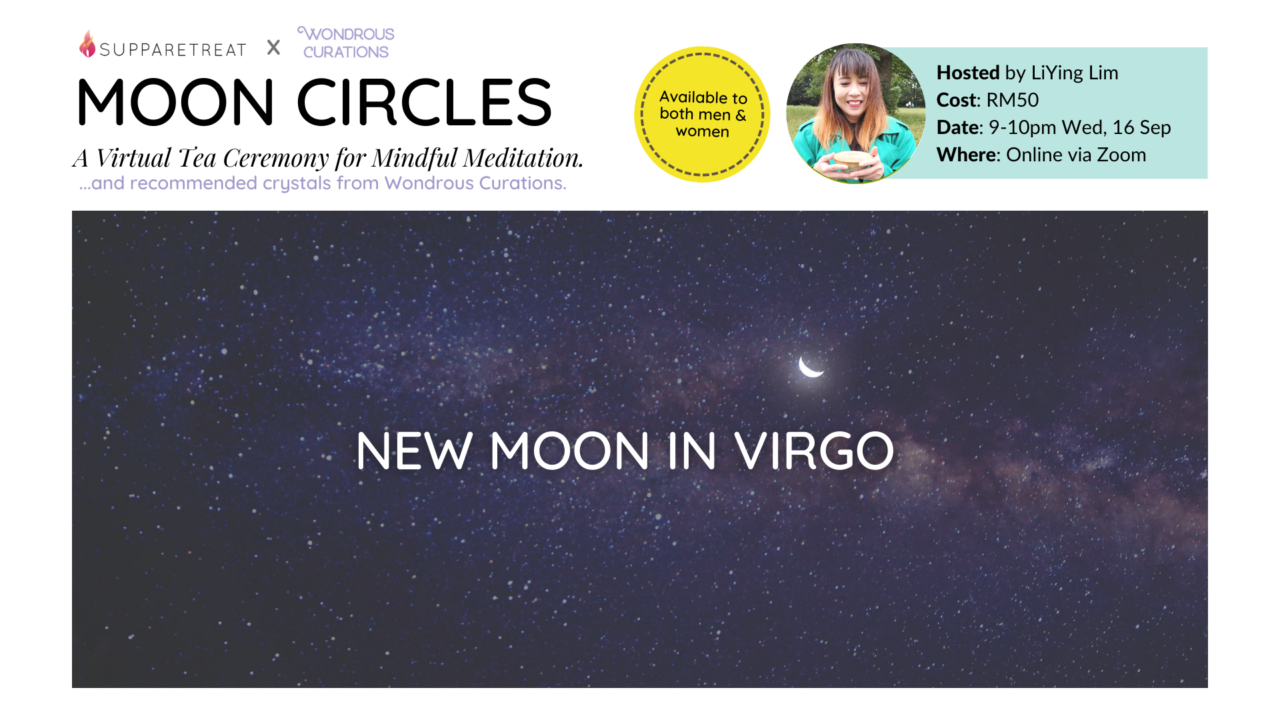 Set your intentions with the upcoming New Moon in Virgo through a Virtual Tea Ceremony hosted by When Still Waters Speak.
Setting intentions as the new moon energy moves around us is a beautiful way to manifest your deepest dreams, prepare you for bigger shifts in your life, and release all that do not serve us. This new moon will be stationed in Virgo, an astrological sign that is symbolised by the virgin. Deeply in tune with Mother Earth, we will root into this energy by purifying our hearts and minds to come back into harmony with nature and authentic self, remembering that we are all part of this great cosmos. If you find yourself tuning into Virgo's more shadow aspects – a perfectionist who is highly critical – then this ceremony will allow you to surrender and come to a practice that can fine-tune (another beautiful characteristic of Virgo) you to your highest self and self-worth.
---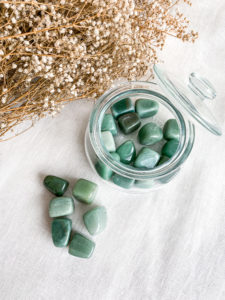 About our selected Crystal from Wondrous Curations
✧ GREEN AVENTURINE ✧⠀
⠀
Prosperity // Passion // Empathy
The Aventurine stone meaning is derived from the Italian word 'aventura," which means 'by chance," an apt name for one of the luckiest stones in the world of crystal healing. Besides its beautiful and dazzling appearance, Aventurine also rocks when it comes to clearing negative thought patterns because it reconnects you to the Divine healing energy of the Earth and its life-giving elements that created this stone over the millennia. The Aventurine stone is known in the gemstone world as one of the luckiest stones, which makes it a must-have for inviting good luck and prosperity into your life.
Aventurine is a stone of prosperity. It reinforces leadership qualities and decisiveness. Promotes compassion and empathy. Encourages perseverance. Aventurine relieves stammers and severe neuroses. It stabilizes one's state of mind, stimulates perception and enhances creativity. Aids in seeing alternatives and possibilities. Calms anger and irritation. Promotes feelings of well-being. Aventurine balances male-female energy. It encourages regeneration of the heart.
Green Aventurine is a comforter and heart healer. It dissolves negative emotions and thoughts and brings well-being and emotional calm.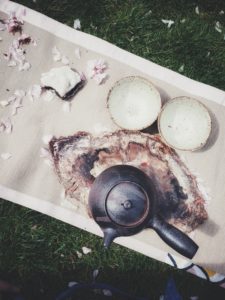 About Tea Ceremony
Some of the many earth-bound benefits of Tea Ceremony:
You are ready to stop the narrative that doesn't allow you to be the star of your show

You would like to deepen your intuition

You desire to awaken to abundance and fullness of life

You want to be able to mindfully observe your thoughts and cure obsessive thinking for good

You want to taste clean, "living" Tea leaves that are honoured for their diversity in the environment in which they flourish, biochemical and fertiliser-free, and cultivated in a clean environment with love from the respective farmers. These leaves bridge Heaven and Earth to sharpen our minds while at the same time, awakening our hearts.
Tea is used in Cha Dao for Her innate quietude, her capability to calm and sharpen the mind at the same time, and her gentle ways of opening the heart through communion and reconnection with Nature. There is a saying in Cha Dao that as we pour Tea, we become the Tea. The Dao is the "flow" of the Universe, and to become at one with the Dao is at the very core of manifestation – for when we get out of our own way, so too will the Universe get to work without resistance that is so often imposed by our very own fear and inhibitions.
About LiYing
LiYing first found her spiritual awakening in sound healing bowls, which has subsequently led her to a kundalini awakening and embracing a lifestyle steeped in daily meditation and yoga. When she found tea in 2019 through the lineage of Global Tea Hut in Hong Kong through Fivelements, she found that sitting in reverent silence with tea can take her meditation and manifestations to greater levels. It was inevitable – she answered the call of the Tea Spirit by devoting herself to the teachings of The Way of Tea, Cha Dao.