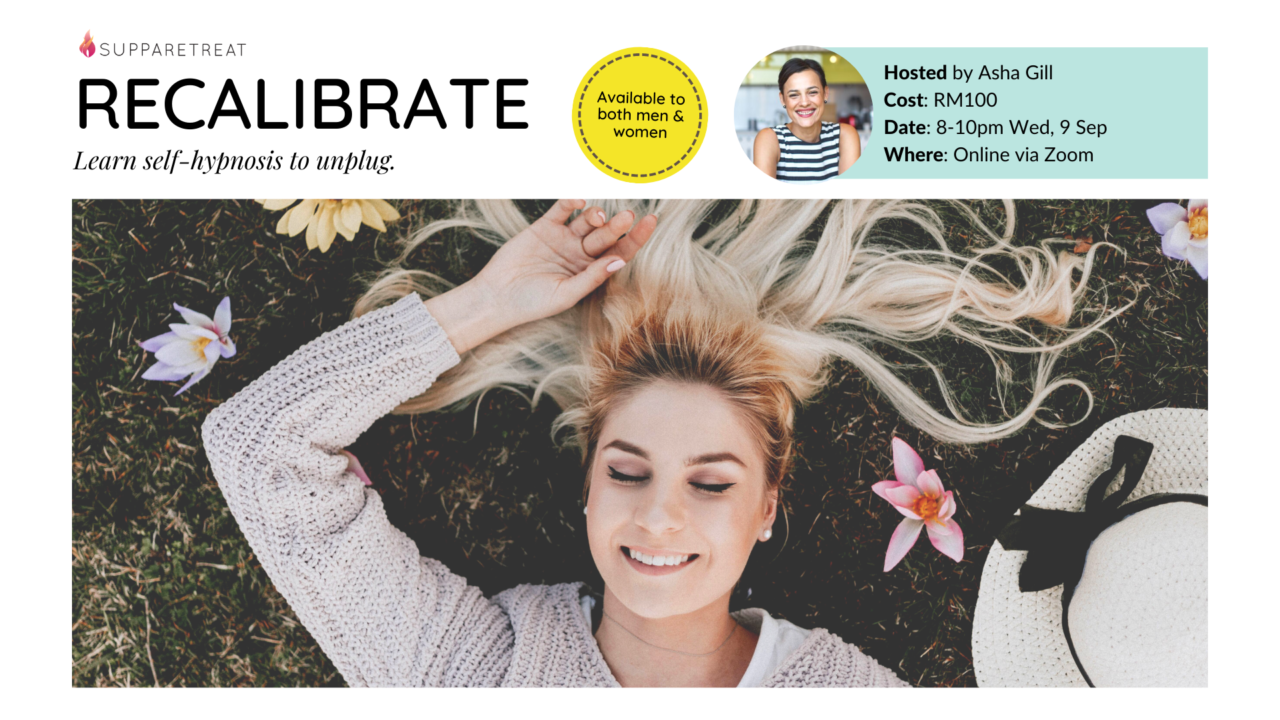 Recalibrate: Self-Hypnosis to Unplug from the Noise
9 September, 2020 @ 8:00 pm
-
10:00 pm
UTC+8
Duration: 2 Hours
Coach:  Asha Gill
Open to both Men and Women
What to Expect:
Everything seems better, easier to handle, and more manageable when we are on top form.
But let's face it, how often do we feel tip-top?
We are constantly carrying a load of stress that has altered our well-being baseline immeasurably.
It affects our digestion, cognitive function, ability to repair and bounce back from injury or illness and affects our sleep. Sleep being one of the fundamental things we need, to allow our body to do all the above naturally.
When you are wound up tight like a ball of string, it can feel almost impossible to unwind yourself, to relax, to feel at ease. Yet we must be able to access this place of quiet stillness in order to feel better, clear our thinking and ultimately allow sleep to come to us naturally.
Learning a simple yet effective tool to access a deeper state of relaxation can make the world of difference.
Knowing how to gently guide yourself into a better 'state' not only helps you feel more in control, but also helps you respond, not react, to what's going on around you.
Understanding how to unplug yourself from the noise around you and in your head is one of the best things you can do for yourself. It's called self-care.
In this session you will:
Discover why changing your state is key to your wellbeing.

Understand what the state of hypnosis is and how it is a natural brain wave pattern.

Experience a gentle introduction to what hypnosis feels like.

Learn a simple, and safe process of self-hypnosis to access a deep state of relaxation.

Be able to follow the steps and practice guiding yourself, so you can do it on your own when you need to unplug.
Who Can Benefit:
Everyone could use a simple technique that helps them de-stress.

If you are struggling to sleep, learning how to relax and rest in a deeply peaceful state is hugely important to your physical and mental health.

If your energy levels are low, being able to relax whilst re-energizing is a very useful skill.

Your kids and loved ones – this is a very simple process that you can share with them.