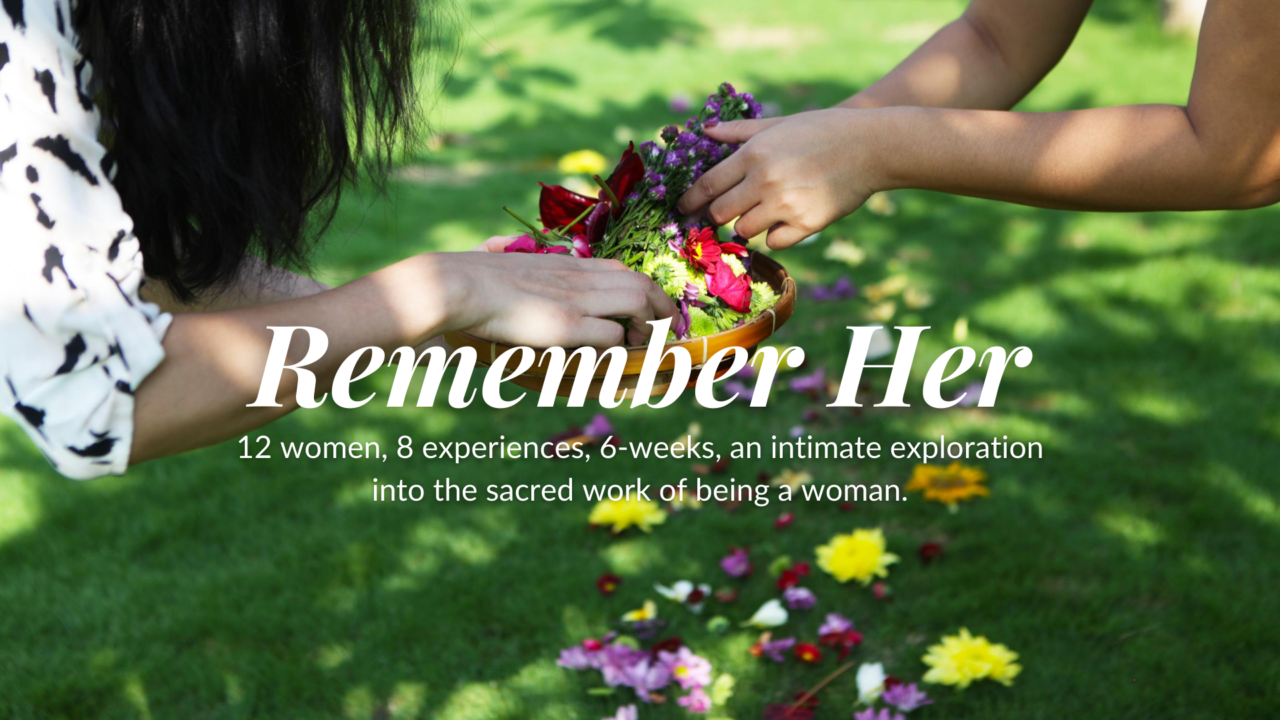 Remember Her: 6-week Program
20 August, 2020
-
24 September, 2020
Remember Her begins on the 20th August and is a 6-week online course designed to be an intimate exploration into the sacred work of being a woman.
From her living womb to her intuitive heart, begin to give your femininity permission to free parts of you that you've kept guarded and hidden because they were too loud, too honest, too fragile, too much and too dangerous to be seen.
No matter what happens or changes, you can walk into this world knowing who you really are and what it means to value and heal the woman within.
---
Who is this for?
If you can feel that you're at a turning point in your life and you know you want to do things differently but don't know how
If you want to confidently know who you are and trust your self to guide, love, lead, and make any decision without any guilt, shame, or need to apologize
If you want to go deeper with a group of women who will hold you accountable, help you see clarity with wisdom and compassion and learn to do the same for others in a lovingly guided safe space
If you want to understand the hidden, sacred, powerful aspects of womanhood that nobody taught you or even talked about
If you're ready to explore your femininity in a new light and reclaim parts of yourself that you have rejected, shamed, abandoned or haven't yet discovered
If you intuitively feel this is for you – even you're not sure why
---
Week 1 : Her Wisdom (Aug 20th) 
Within us are the seeds of wisdom planted and buried, so too are the stories we've been told and the stories we've told ourselves. Discover poignant truths and heartfelt lessons through the narrative of every mother-daughter relationship. 
Week 2: Her Womb (Aug 27th) 
Marvel and connect to the wonder of your womb, the living crown of a woman. Where sacred life is created and nourished, where each season is birthed and shed, where grief and rejection is often overlooked. Delve into the cyclical intelligence of your womb and learn to use Her voice. 
Week 3: Her Heart (Sept 3rd)
A movement-based Heart practice that allows your natural intuition to lead. Listen to the quiet rhythms of your soul, tune in to your intuitive flow, and be inspired by stories of following your heart even amidst the noise.



Week 4: Her Body (Sept 10th) 
As women, we have unknowingly disowned our bodies in order to be accepted and cherished. Celebrate, honour and reclaim the parts of your body you have punished and rejected through this lovingly guided Heart circle.



Week 5: Her Medicine (Sept 17th)
Drawing from your innate healer, create your very own First Heart Kit. A personal blend of Heart practices and truths designed to be the soothing remedies for when your soul is out of alignment. 
Week 6: Her Throne  (Sept 24th)
Gentle, crowned, and majestic, this last piece celebrates your royalty and the sacred work of being a woman. Ascend your seat at the throne by truly understanding, owning and using your inner wisdom. Remember Her anytime you need support, renewal, or clarity.
Bonus Her : Wise Women – Intro Session *One time only: Fri Aug 21st – 8:00 – 10:30pm
In this practical hands-on session, Hannah and Racheal will introduce you to your inner council of wise women. Her Wise Women are small groups designed to practice the art of holding space. Understand the balance of staying in your truth while lovingly nurturing others to stay in theirs.