Supparetreat x Alia B: Self-Love Escapes
10 October, 2020 @ 5:00 pm

-

7:00 pm

UTC+8

RM75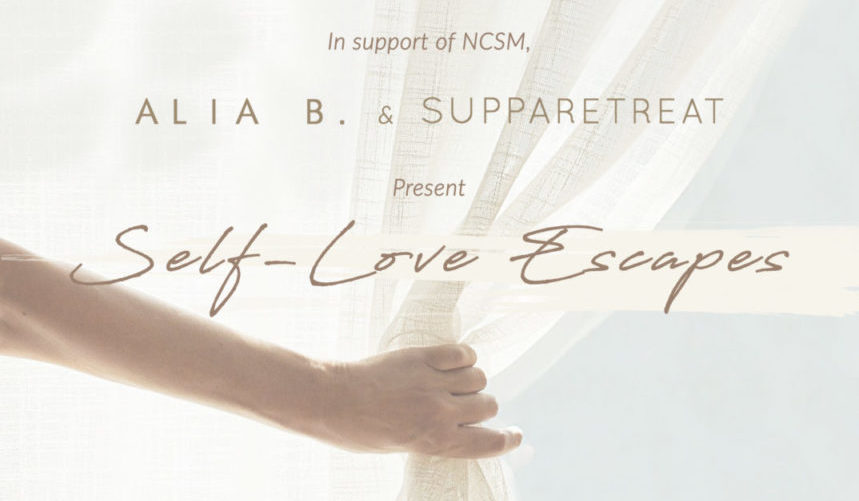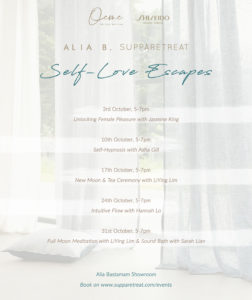 In support of National Cancer Society of Malaysia (NCSM) for Breast Cancer Awareness, Supparetreat curates an exciting lineup of empowering experiences to help women connect with themselves and encourage them to take time for some self-love. Self-love is the balance between accepting yourself as you are while knowing you deserve better, and then working towards it.
3rd October: UNLOCKING FEMALE PLEASURE WITH JASMINE KING
Did you know that the clitoris' sole purpose is pleasure and yet we've been told to suppress our pleasure as women, why is that? Also, did you know our bodies go through four phases as we experience an orgasm? In 'Unlocking Female Pleasure', we delve into the world of all things pleasure. From understanding how women's bodies work to the powerful clitoris, to types of orgasms and how to unlock them. Get ready to turn shame, fear and stigma into a pleasurable celebration! 
JASMINE KING, Sex Educator
Jasmine runs an online platform called Ohheymissking where she educates, breaks taboos and sparks conversations on dating and sexual health. As someone who grew up in Malaysia, she understands the different cultural taboos and sensitivities especially towards sexual health, thus aims to empower individuals by raising awareness and providing a safe space to encourage open and honest conversations around the topic.
---
 10th October: SELF-HYPNOSIS WITH ASHA GILL
Learning simple, effective tools to access deeper states of relaxation can make the world of difference. Knowing how to gently guide yourself into a better 'state' not only helps you feel more in control but also helps you respond, not react, to what's going on around you.Understanding how to unplug yourself from the noise around you and in your head is one of the best things you can do for yourself. It's called self-care.
ASHA GILL, Life Coach, Master Practitioner of Neuro Linguistic Programming (NLP) & Master Practitioner of Time Line Therapy
Asha became a life coach by accidental design. As an NLP Master Coach she encourages you to move towards where you want to be and what you'd like to achieve. This truly is a journey of self-commitment and self-investment. As a Master Practitioner of Hypnosis she gently engages the unconscious mind in directing and cementing in new strategies & motivation, to get those rapid changes that are desired. 
---
17th October: NEW MOON & TEA CEREMONY WITH LIYING
Libra calls for judgement and fair game as well as equality. A new moon phase is a time to set intentions and sow seeds that you would like to see come into fruition in the next full moon. This is a time to go into deep introspection. What would you like to discard from your life? What would you like to keep and tip the balance back into play? With the gentle quietude of Tea, we shall come back into harmony with the Universe within us all to discover our inner voice.
LIYING LIM, Tea Ceremony & Meditation Practitioner
LiYing first found her spiritual awakening in sound healing bowls, which has subsequently led her to a kundalini awakening and embracing a lifestyle steeped in daily meditation and yoga. When she found tea in 2019 through the lineage of Global Tea Hut in Hong Kong through Fivelements, she found that sitting in reverent silence with tea can take her meditation and manifestations to greater levels. It was inevitable – she answered the call of the Tea Spirit by devoting herself to the teachings of The Way of Tea, Cha Dao.
---
24th October: INTUITIVE FLOW-SENSUAL SPECIAL BY HANNAH LO
In this Sensual Special of Hannah's Intuitive Flow, women will learn to own their sensuality and be the source of their own pleasure by exploring different sides of their femininity. From the wild and messy to the innocent, playful and even seductive, fiery sides, we'll throw all ideas of perfect or pretty out the window and instead come back to what feels good. This 90-minute movement class is designed to be medicine for a woman's body and soul. Through sensing and intuiting, simple movements and free form expression women will be guided to listen to their bodies in order to ignite their own ecstasy and move their way to bliss.
HANNAH LO, Love & Relationship Coach
Known for her compassionate and heart-led approach to spirituality and women's wellness, Hannah has a gift for activating all that is powerful in women. She's a teacher, speaker and guide for women in the midst of transformational change and coaches women on love & relationships.
---
31st October: FULL MOON MEDITATION WITH LIYING  & SOUND BATH WITH SARAH LIAN
As we honour the full moon in Taurus we are also welcoming the beginning of winter and the end of harvest season, also celebrated in Gaelic, as Samhain. A time when beings have gathered in circles to honour Nature's cycles, this is a potent time, under the gaze of an earthbound energy from the moon, to receive the medicine that Mother Gaia provides us with an open heart and stillness through a Tea ceremony. 
SARAH LIAN, Founder of Supparetreat & Sound Bath Facilitator
Sarah has devoted the past couple of years creating safe spaces for women to connect with themselves and each other. From entertainment to wellness, this journey of passion has led her back to serving others. Through Supparetreat, she recognises the importance of awakening sisterhood among other women and encourages individuals to ignite the fire within. While exploring various modalities of healing, Sarah facilitates sound baths using singing crystal bowls to relax and restore the body, mind and soul.
10% of our proceeds will be allocated to National Cancer Society Malaysia (NCSM)
We'd like to thank our sponsors Oh Cha Matcha and Shiseido Malaysia, Smile Makers, Wondrous Curations, Cha Zhi Ji, Bobble.